Monster Hunter World™ Limited Edition Rathalos PS4™ PRO Console
PlayStation 4 | Console Hardware
M - Recommended for mature audiences
Others also bought
Product overview
Battle gigantic monsters across epic locales in stunning 4K* and HDR quality graphics with the limited edition Monster Hunter: World™ Rathalos 1TB PS4™Pro bundle. Includes one special edition DUALSHOCK®4 wireless controller and Monster Hunter: World™ on Blu-ray Disc™. Also includes PlayStation™Store digital pre-order bonus content.
Bundle contains:
Limited edition 1TB PS4™Pro console featuring the fire wyvern, Rathalos.
Customised red DUALSHOCK®4 wireless controller with unique grip designs.
Monster Hunter: World™ on Blu-ray Disc™.
Origin Armour Set.
Fair Wind Charm Talisman
PlayStation®4 Monster Hunter: World™ theme.
Enhanced with PlayStation®4 PRO
Supercharge your monster hunts with PS4™Pro by choosing between faster frame rates, sharper resolutions or even higher quality graphics.
4K resolution: explore a strange new world that bursts out of your screen with stunningly sharp visuals*.
Frame rate boost: experience the breathless heat of battle with fast and fluid fighting as the action becomes quicker, smoother and more explosive.
Enhanced graphics: track your prey from afar with greater draw distances; and encounter beasts brought to life with incredible levels of detail.
Enhanced environments: hunt through lush landscapes filled with more vivid textures and deeper shadows.
High Dynamic Range visuals: enjoy intensely vibrant colours and incredible clarity in every hunt.
*Games and entertainment streaming services can output up to 2160p; PS4™Pro upscales lower resolutions to 2160p. HDR not supported by all games and entertainment streaming services. PS4™Pro outputs 1080p to HDTVs; 4K/HDR TV required for 4K and HDR.?
Monster Hunter: World™ outputs up to 1800p which is upscaled to 2160p by PS4 Pro.
Introducing the super-charged PS4.
PlayStation®4 Pro is a high-spec console that delivers the ultimate gaming and entertainment experience with spectacular graphics and unrivalled power.
Spectacular graphics – if you own a 4K TV, get ready for higher quality visuals, including resolutions of up to 4K*2. No 4K TV? You can still enjoy gameplay and frame rate enhancements on your standard HD TV with PS4™ Pro.
Ultimate performance – PS4™ Pro packs more than double the GPU power of a standard console and a beefed-up CPU to give you an incredible combination of graphical prowess and processing muscle*3.
Extraordinary entertainment – watch video streaming services in amazing 4K*4. Check out the Netflix app which allows you to stream 4K movies and shows like Narcos and Luke Cage. There's also a 4K compatible YouTube app coming soon to PS4™ Pro.
Enhanced gameplay – enjoy fast, more stable frame rates*5 for smooth, super-sharp on-screen action.
Ultimate Share Play and Remote Play – share or stream your games in stunning detail with visuals of up to 1080p and 60fps.
More connections – choose between 2.4GHz and 5GHz Wi-Fi modes and output to your TV via HDMI 2.0. There's also an extra USB 3.0 port.
High Dynamic Range (HDR) – this advanced new technology means visuals are more realistic, vivid and truer to what the human eye sees in the real world*6.
*1 When compared with other games consoles on the market at time of launch.*2 Outputted by graphic rendering or upscaled.*3 When compared to previous PS4™ model. *4 Not supported by all video services available for PS4™. *5 Not supported by all software titles. *6 HDR TV plus game or video streaming service with HDR support required.
Spectacular gaming and entertainment
Intensely vibrant gameplay, stunningly sharp movies and incredible detail in every moment.
Super-charged power
PS4 Pro packs in leading-edge technology to deliver fast, sharp and responsive gaming experiences.
Power
Games explode into life with intense graphics and incredibly lifelike details thanks to increased power under the hood.
Speed
Action becomes faster, smoother and more explosive with crystal-clear movement from faster and more stable frame rates.
Next level gaming
With a 4K TV, PS4 games deliver unprecedented visual precision, such as 4K quality resolution to give remarkable clarity down to the tiniest detail*. Alongside stunningly vibrant HDR colours, your adventures will burst into life with unbelievable vibrancy.
Incredible entertainment
Stream the biggest movies, hottest TV shows and latest videos in up to stunning 4K resolution* from Netflix, YouTube and a host of entertainment apps coming soon – all with auto-upscaling for the sharpest picture possible.
Greater connectivity
Seamlessly connect and share to your gaming worlds.
*4K TV required. Outputted by graphic rendering or upscaled.
Monster Hunter Worlds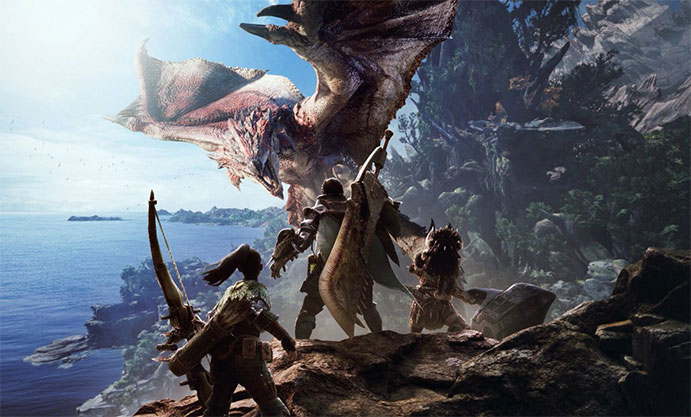 Welcome to the new World: Taking on the role of a hunter, players are tasked with going on a research expedition to a newly discovered continent known only as "new world" as they venture on quests to discover more about this mysterious land.
Living and breathing ecosystem: Utilize the surrounding environment and wildlife to your advantage. For example, pit monsters against one another to lure the main target creature to the right place, but be careful not to become hindered by the hazards they present.
Global simultaneous release: For the first time in the Monster Hunter series the latest title will release within the same launch window and unite hunters across the world with cross-region cooperative play options.
Online drop-in multiplayer: When the battle is too daunting to take on single-handedly, hail up to three other hunters to assist during quests by sending up a SOS flare to a worldwide server full of potential teammates.
Hunt to craft new gear: Defeat monsters and collect loot from fallen foes to craft equipment and weapons styled after the monsters that have been slain. Selecting the right loadout can help exploit enemy weaknesses to gain an advantage in battle.
Master the beasts: A variety of ferocious creatures inhabit the new world landscape including the series mainstay Rathalos and the all new Anjanath. Players can mount the monsters with the dynamic riding mechanic, allowing them to travel along the monster's body and deliver locational damage.
Seamless gameplay: Players and monsters can move from one map area to another freely and without loading screens whilst gameplay also dynamically transitions between night and day.
The latest entry in the critically acclaimed 40 million unit selling action RPG series, Monster Hunter: World introduces a living, breathing ecosystem in which players take on the role of a hunter that seeks and slays ferocious beasts in heart-pounding battles. Venture on quests alone or with up to three other hunters in a newly designed online drop-in multiplayer system which allows cross-region cooperative play between Japan and the West, uniting the global player base for the first time ever. Monster Hunter: World will also be the first game in the series with a worldwide simultaneous launch window and is planned for release on PlayStation® 4 computer entertainment system and Xbox One in early 2018. A PC release will follow at a later date.
Monster Hunter: World sees players gear up to venture on quests to battle against fearsome monsters, progressively improving their hunting abilities as they play. Loot collected from fallen foes can be used to create new equipment and armor upgrades as players seamlessly move across map areas that comprise the living ecosystems. The landscape and its diverse inhabitants play a critical role as players strategically use the surrounding environment to their advantage. Hunters must use their cunning and technique to survive the intense and evolving fights as they battle to become the ultimate hunter!
Video trailer
Screenshots